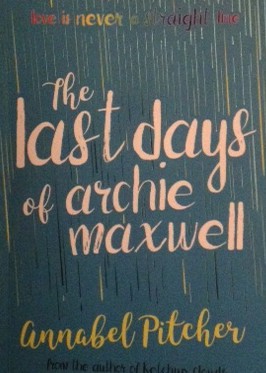 Award-winning young adult novelist Annabel Pitcher has never shied away from what some people might characterise as 'difficult' subjects. Her first novel, My Sister lives On the Mantlepiece deals with the consequences on a family of sibling bereavement and violent loss and she followed this with Ketchup Clouds which addresses guilt, imprisonment and teenage sexual angst. True to form, Pitcher's latest book for the estimable Barrington Stoke publishing house, plunges back into that same territory – this time confronting homophobia and teenage suicide.
If all that sounds a bit daunting, well it isn't. In Pitcher's skilful hands we have an engaging, warm but frank drama that will appeal to children of secondary school age.
Archie Maxwell's life is a bit of a mess. He's just found out his mom and dad are splitting up but not for the usual reasons – there's no tantrums, no throwing things, no histrionics. Why? Because his dad has finally come out as gay. Archie knows he should be as accepting of this as his mom and sisters seem to be but he just can't come to terms with it. All he can see is betrayal – and humiliation at the hands of his school friends. In fact, Archie's 'friends' are only his 'friends' because he's too passive to challenge them and their laddish, boorish homophobia – he knows they will use the knowledge of his dad's coming-out to make his life a misery.
That's not his only problem. Archie is infatuated with the beautiful Tia whose best friend is Jared, a confident gay boy who knows how to look after himself. But Tia, who likes Archie's sensitivity, has her own issues – her brother has recently committed suicide by stepping out in front of a train.
Archie's mind is in turmoil – how can he reconcile all these conflicting emotions? Maybe Tia's brother had the right idea after all and the only way out of this is his own suicide.
But what is the real secret behind Tia's brother's suicide? Will Archie be able to confront the homophobic bullies and find reconciliation with his family? Will both he and Tia choose life or death?
Well, you'll have to read the book to find out.
I read this book at a single sitting because I just had to find out how the story unfolded. I loved some of the support cast: Leon, the bully and possible closet-gay is a really nasty piece of work and the wonderful Jared, a confident gay boy who also does martial arts and takes no bull. Her decision to make these individuals live just as much as Archie or Tia gives the book weight and added depth.
I can pretty much guarantee that this book would be a real hit with its target audience because it delivers thrills and plenty of talking points without being in least patronising. And at £7.99 it's a snip!
Terry Potter
November 2017